CyberCube adds Matthias Weber to its Board of Directors in an example of technology and insurance convergence in InsureTech firms
Board appointment accelerates CyberCube's ambitions to deliver the digital risk analytics that power the future of the insurance and reinsurance industry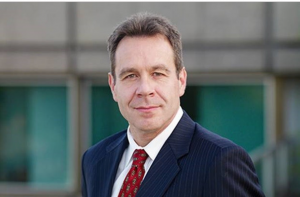 SAN FRANCISCO, Aug. 28, 2018 /PRNewswire/ — CyberCube, a leading provider of cyber risk analytics for the insurance industry, today announced the addition of Matthias Weber to its Board of Directors.
Between April 2012 and June 2018, Matthias Weber served as Group Chief Underwriting Officer and member of the Group Executive Committee at Swiss Re, a leading wholesale provider of reinsurance, insurance and other insurance-based forms of risk transfer. Weber joined Swiss Re in 1992, working across a diverse number of roles and markets including leading property underwriting in the US Direct Business Unit and serving as Division Head of Property & Specialty at Swiss Re.
"To be able to provide adequate insurance protection, cyber insurance underwriters require cutting-edge forward-looking analytics to understand and assess the risks underlying the policies they write," shared Matthias Weber. "Having access to exclusive data and the highest-quality experts across multiple disciplines optimally positions CyberCube to become the world's leading cyber insurance modeling company."
"This appointment underscores CyberCube's commitment to combining leading cybersecurity and insurance industry expertise in one company dedicated to cyber insurance analytics," shared Kenneth Schneider, who leads Symantec Ventures.
The CyberCube platform was created within Symantec, the cyber security company, in 2015 and now operates as a standalone company dedicated to providing analytics to the insurance industry with its software analytics platform.
"We are incredibly fortunate to have such a leading figure in the global insurance and reinsurance industry on our Board of Directors," said Pascal Millaire, CEO of CyberCube. "Cyber will change the future of the insurance industry and we aim to provide the analytics that helps drive sustainable growth for the insurance and reinsurance industry in this important new risk."
"The insurance industry has a lot to learn from the technology industry and the technology industry also has a lot to learn from insurers," shared Donald R. Dixon, existing Board member at CyberCube and Managing Director at ForgePoint Capital. "For successful InsureTech companies to thrive, they need to bring in seasoned insurance expertise to appreciate the unique dynamics of this complex, highly regulated industry."
CyberCube also recently announced the appointment of Admiral (Ret.) Michael S. Rogers to the Board of CyberCube. Rogers was the former Former Director of the NSA and Commander of US Cyber Command.
Contact Yvette
If you're looking for more information on CyberCube or on how to collaborate with us, feel free to get in touch with me directly.
I'd be happy to help!