Partnership enables CNA to broaden cyber insurance underwriting capabilities and address the emerging challenges in measuring cyber aggregation risk.
SAN FRANCISCO, Nov. 7, 2018 /PRNewswire/ — CyberCube, a leading provider of cyber risk analytics for the insurance industry, today announced that CNA, one of the largest U.S. commercial property and casualty insurance companies, has signed an agreement for use of the provider's cyber insurance analytics platform to supplement the insurer's ability to underwrite, price and model cyber risk.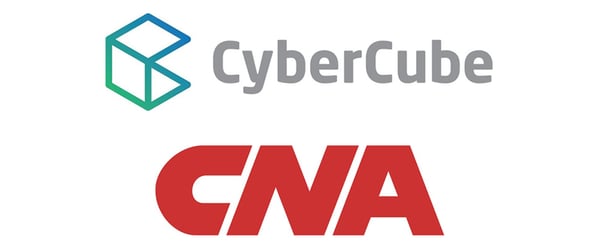 Cyber risks present unique challenges to insurers due to increasingly complex cyber threats, the rapid pace of digitization, and limited historical data. As the global cyber insurance market continues to grow exponentially, CyberCube's cyber risk-modeling platform will enhance CNA's underwriting workflows, provide it with increased cyber aggregation capabilities, and develop a customized view of exposure.
"Our customers face emerging cyber challenges daily," said Andrew Lea, Vice President, Underwriting for Errors & Omissions, Cyber & Media Liability, CNA. "We are thrilled to leverage CyberCube's expertise and risk-modeling capabilities, as they empower our underwriting and risk-modeling teams to better address these challenges."
"CyberCube is excited to partner with CNA to help with underwriting analytics and portfolio management," said Pascal Millaire, CEO of CyberCube. "Our industry-leading cyber risk-modeling platform is powered by several best-in-class data sources and Symantec's world-leading threat intelligence. We are pleased to support CNA, one of the nation's leading insurance providers, in navigating one of the most complex risks facing their customers in the 21st century."
CyberCube risk-modeling platform combines single risk underwriting and aggregation risk modeling to help insurers accurately measure the financial impact of emerging cyber risks. Cyber insurance is one of the fastest-growing insurance lines to emerge in decades, and is expected to reach $20 billion in premium revenue by 2025.
About CNA
CNA is one of the largest U.S. commercial property and casualty insurance companies. CNA provides a broad range of standard and specialized property and casualty insurance products and services for businesses and professionals in the U.S., Canada, Europe and Asia, backed by 120 years of experience and more than $45 billion of assets. For more information about CNA, visit our website at www.cna.com.
About CyberCube
CyberCube delivers the world's leading cyber risk analytics for the insurance industry. With best-in-class data access and advanced multidisciplinary analytics, the company's Software as a Service platform helps insurance companies make better decisions when underwriting cyber risk and managing cyber risk aggregation. CyberCube's enterprise intelligence layer provides insights on millions of companies globally and includes modeling on over one thousand single points of technology failure. The CyberCube platform was established in 2015 within Symantec, the global leader in cyber security, and now operates as a standalone company exclusively focused on the insurance industry, with continued access to Symantec data and resources and backing from ForgePoint Capital. For more information, please visit www.cybcube.com or email info@cybcube.com
Contact Yvette
If you're looking for more information on CyberCube or on how to collaborate with us, feel free to get in touch with me directly.
I'd be happy to help!