Munich Re, a leading reinsurer, aims to leverage CyberCube's advanced cyber aggregation risk modeling capabilities and address the challenges in the fast-evolving cyber risks landscape.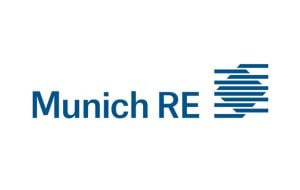 SAN FRANCISCO, Feb 27, 2019 /PRNewswire/ — CyberCube, a leading provider of cyber risk analytics for the (re)insurance industry, today announced that Munich Re has selected its cyber insurance analytics platform to support state-of-the-art quantification, modelling and control cyber accumulation risk. Munich Re is the market leader in the swiftly growing cyber (re)insurance market and offers both insurance and reinsurance under one roof.
The reinsurance industry is offering expert solutions and providing significant capital to nurture the growing cyber insurance marketplace. An extreme cyber event has the potential to deeply impact thousands of organizations at once, and the accumulation of liabilities across multiple insured portfolios could result in substantial losses. CyberCube's cyber risk-modeling platform enables (re)insurers to strengthen their accumulation risk management and exposure measurement.
Stefan Golling, Chief Underwriter of Munich Re: "Cyber insurance is a key focus of our innovation strategy. We have made significant investments in our own cyber risk expertise and we seek to complement this with insights from the cyber eco-system. Leveraging the capabilities of CyberCube will help our underwriting and risk modelling teams in better quantifying cyber risk and understanding potential cyber accumulation scenarios."
Insurers and reinsurers are in the process of quantifying both the extent of the opportunity and the risk posed by cyber risk. It is critical for reinsurers to look at the cascading impact of largely aggregated cyber-attacks and prepare for it. CyberCube will provide advanced risk modeling capabilities to Munich Re with several cyber risk aggregation scenarios.
Pascal Millaire, CEO of CyberCube: "CyberCube is delighted to support Munich Re in making significant progress to tackle one of the largest opportunities – and threats – to the global P&C (re)insurance market in our generation. Our industry-leading cyber risk-modeling platform is powered by several best-in-class data sources and Symantec's leading threat intelligence. We are pleased to use these capabilities to support a leader in the reinsurance market."
About Munich Re
Munich Re is one of the world's leading providers of reinsurance, primary insurance and insurance-related risk solutions. The group consists of the reinsurance and ERGO business segments, as well as the capital investment company MEAG. Munich Re is globally active and operates in all lines of the insurance business. Since it was founded in 1880, Munich Re has been known for its unrivalled risk-related expertise and its sound financial position. It offers customers financial protection when faced with exceptional levels of damage – from the 1906 San Francisco earthquake to the 2017 Atlantic hurricane season. Munich Re possesses outstanding innovative strength, which enables it to also provide coverage for extraordinary risks such as rocket launches, renewable energies, cyberattacks, or pandemics. The company is playing a key role in driving forward the digital transformation of the insurance industry, and in doing so has further expanded its ability to assess risks and the range of services that it offers. Its tailor-made solutions and close proximity to its customers make Munich Re one of the world's most sought-after risk partners for businesses, institutions, and private individuals.
About CyberCube
CyberCube delivers the world's leading cyber risk analytics for the insurance industry. With best-in-class data access and advanced multidisciplinary analytics, the company's Software as a Service platform helps insurance companies make better decisions when underwriting cyber risk and managing cyber risk aggregation. CyberCube's enterprise intelligence layer provides insights on millions of companies globally and includes modelling on over one thousand single points of technology failure.
The CyberCube platform was established in 2015 within Symantec, the global leader in cybersecurity, and now operates as a standalone company exclusively focused on the insurance industry, with continued access to Symantec data and resources and backing from ForgePoint Capital. For more information, please visit www.cybcube.com or email info@cybcube.com
Contact Yvette
If you're looking for more information on CyberCube or on how to collaborate with us, feel free to get in touch with me directly.
I'd be happy to help!